Microsoft Teams Calling Plan
Make and receive calls to any phone, not just other Teams users by adding PSTN Access to Microsoft Teams.  When someone calls your phone number it rings all of your Teams devices: your computer, mobile phone, or tablet.  Answer on any device, anywhere, anytime!  It is the phone system for Teams.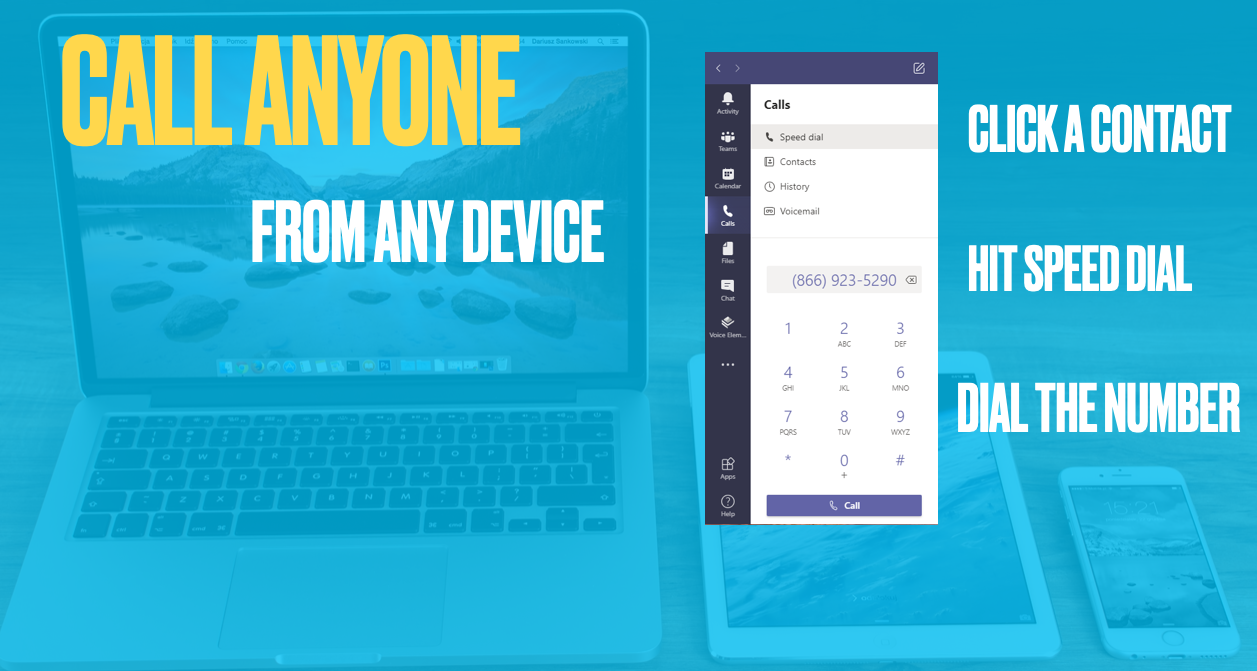 Cost Effective
One of the best parts is the price! Only $7 per user per month, with no limits within the US and Canada. Yes, that's right–simple and predictable pricing. That is half what Microsoft charges and we include lots of other advanced features they do not offer.
And there's no hardware or software to install making setup fast, easy and painless.
Use Teams as your Phone System
Each user gets a local phone number that you pick.  You can also use your existing phone number by porting it into our system.  All phone numbers also support SMS/MMS for texting.
Advanced Features
Built in is the ability to Record Calls for training and compliance.  Easy user interface to play back those recordings.  
Call History and Statistics is a also built in.  Daily emails can be sent with a Detailed call list as well as a Summary report.
Easy to Use
Nothing to learn and fully integrated into Teams!  Just dial a number in Teams or answer an incoming call.
Our simple guide steps you through getting setup and configuring Teams.  If you encounter any problems, our expert support team is standing by.
Work Anywhere
Your business line is no longer tied to your phone at the office.  Using the Teams mobile app, your business line is now accessible on your cell phone.  Leave it on or turn it off.
Outstanding Support
With over thirty years of experience, our support is second to none. We are here with you throughout the entire process. From handling the installation, answering any questions you may have, to helping you expand as your business expands– VoiceElements is a partner you can always count on.
Watch the Video
Learn the power of adding the Voice Elements Calling Plan to Teams Today!
How it works
Voice Elements is a Cloud Service and Calling Plan for Microsoft Teams. The Voice Elements Cloud interfaces the Public Switched Telephone Network (PSTN) with Microsoft Teams. This enables calling and receiving calls from any phone, plus so much more. We are a Microsoft Partner and Teams Direct Routing Provider. What this really means is you don't have to worry about hardware or software.
Enables Microsoft Teams to be your phone system

No hardware to purchase, install or maintain

We provide the phone numbers for each user or you can use your own

You can extend functionality using Voice Elements Programmable Voice features

Scales as you grow
Businesses rely on Voice Elements

Ankit Gupta
SpitFire Dialers
They have great support team which is always there to go above and beyond to help you. I love Voice Elements and their products.

Rick McFarland
Voice4Net
Extreme flexibility and scalability for creating sophisticated telephony applications in a fast, efficient manner.

Travis Hall
DentalTek Inc.
Voice Elements technology enables us to provide the best possible products to our customers and we simply could not do it without them.