Voice API Platform Features
Automate Any Phone Call
In a nutshell, Voice Elements will help you automate any phone call. Voice Elements is a dead-simple toolkit designed for .NET Developers to quickly build & deploy flexible, secure and powerful TELEPHONY apps.  Calls can connect via SIP, A browser, or a phone carrier.
Voice Elements Client
Integrate Voice Elements into your Visual Studio Solution by installing our NuGet package into your project.  You can compile using .NET Framework or .NET Core. Search Nuget using "VoiceElements".  Your app can run under Windows, Linux, or Mac. Learn More.
The easy way to build something amazing.
Voice Elements Server
Connect your Voice Elements client app to a Voice Elements Server.  You can connect to our Cloud Servers (by the minute) or you can install your own Voice Elements Server at your own premise (by the concurrent call).  The Voice Elements Server Platform implements its own SIP Stack and Host Media Processing (HMP).  The server runs under Windows.
Deploy Anywhere
Deploy as a Windows System Service, a Windows app, a command line app or via a Web Page.  Run the app on your server or Cloud VM or deploy to our cloud for free.  Connect to our cloud servers or your own.
Call Options
Calls can connect via SIP, a Browser, or a Phone Carrier.  You can connect your Voice Element Server to your own PBX or to Microsoft Teams using their Direct Routing Interface.
All the Features You Need
Check out below all the features you need to Launch a Successful Product.
WHATCHA GONNA BUILD?

Easy to Get Started
Start by Choosing a "Sample Solution".  Just press the "Try For Free" button
Compile with Visual Studio.  Make changes as you desire.
Launch Your New Solution on Our Cloud or on Your Own Server
Try Voice Elements Now and Love It Forever
Award Winning Features
Call Routing
Play / Record Files
Tone Recognition (DTMF / Custom Tones)
Speech Recognition
Text-to-Speech (TTS)
Voice Conferencing
Call Progress Analysis (CPA)
Beep Detection
Call Recording
Faxing
SIP Call Control
RTP (G.711, G.729, HD, TLS, Opus etc.)
WebRTC
Whisper / Coaching
Highly Scalable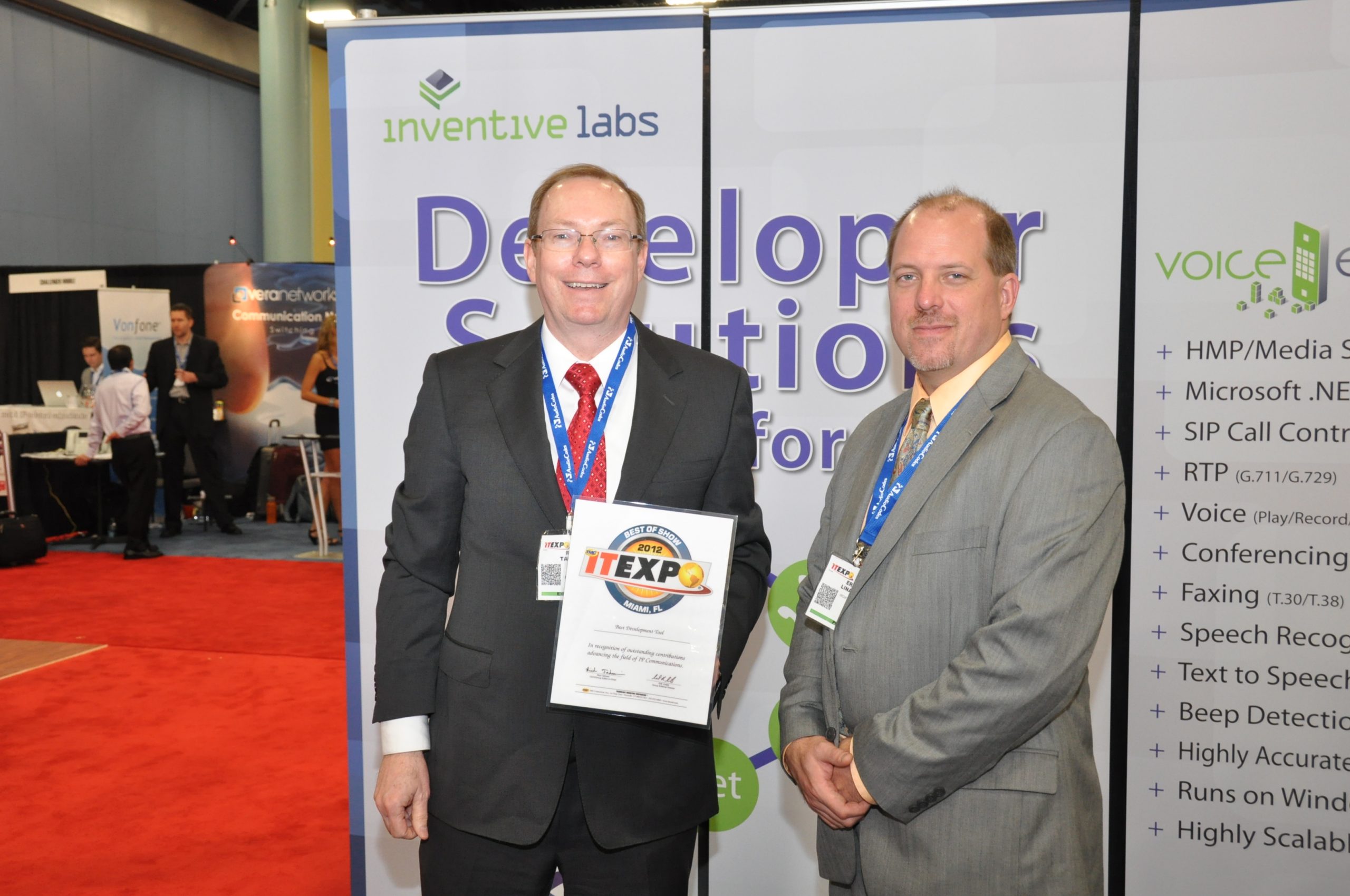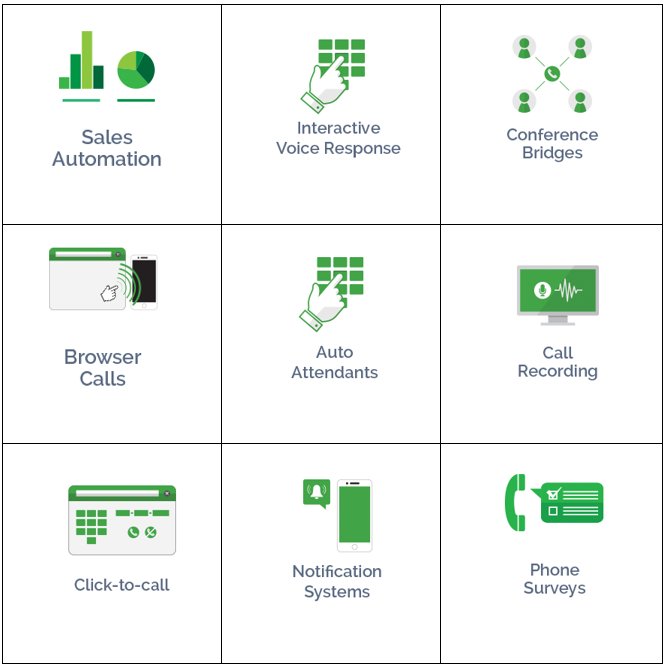 What can you build?
Just about anything that you can dream up! Check out our periodic table of Voice Elements at the top of this page. We can't wait to see what kind of tele-integration you build.
Call us for a Free Consultation on how to build your idea.  Just click below to set up a meeting.
Check out all of these Ideas
Since 1999 our customers have created thousands of inventive applications.  The following slide just shows some of them.  Use your imagination to improve your Customer Communications.
Ideas, Ideas Ideas:
Tele-Integrations, customer surveys, self-service IVRs, call centers, phone systems, ticket management, two-factor authentication, appointment reminders, customer surveys, Voice/SMS broadcasts, political polling, power dialer, reservation confirmation, collections, SMS marketing, emergency notifiction, order status, delivery reminders, flight information, fundraising, alerts/notifications…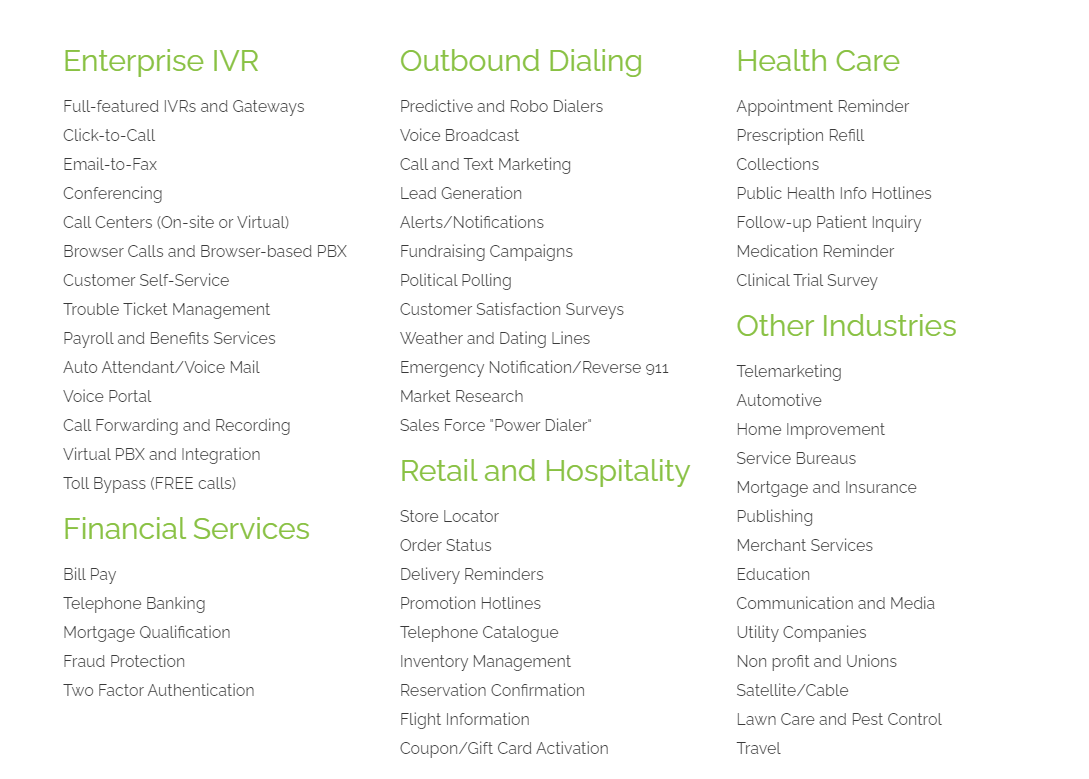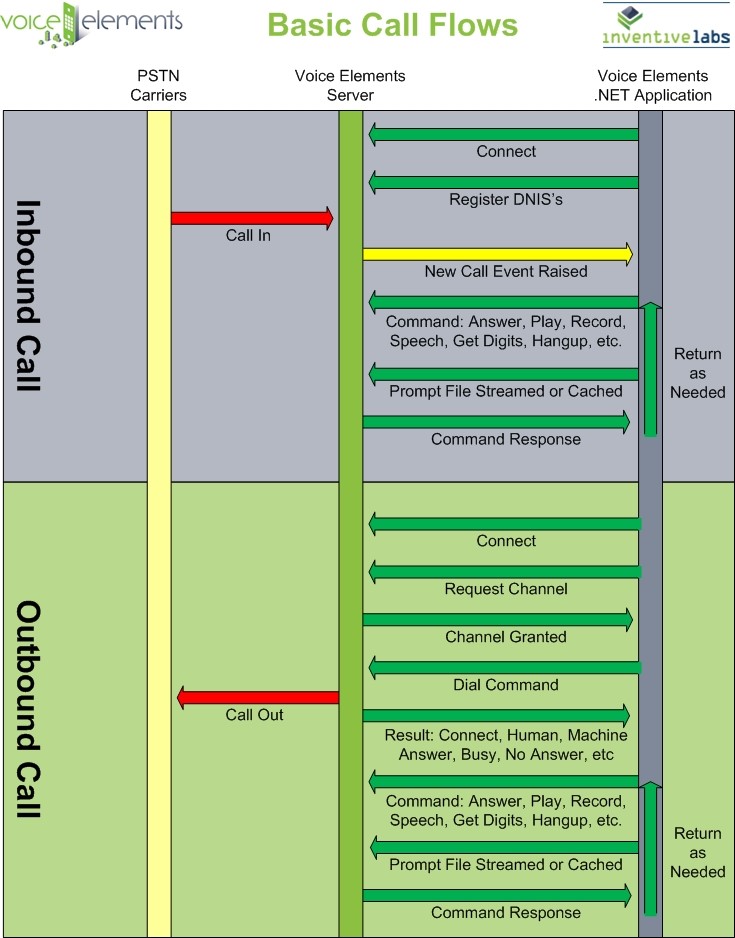 How It Works
The left bar (yellow) represents the source of the call.  (i.e. Carrier, SIP, WebRTC etc).  The middle bar (Green) represents the Voice Elements Server wherever it may be.  The right bar (Gray) represents your application.
Your App connects to a Voice Elements server.  If you are expecting inbound calls, you will want to register the phone numbers that you are interested in.  By default it will register ALL phone numbers assigned to your account.
Inbound Call
You receive an event.  You send a command and receive a response.  Repeat until you hang up or they hang up.
Outbound Call
Request a channel. Send a Dial command. Receive result.  Send a command and receive a reply.  Repeat until you hang up or they hang up.
VOICE ELEMENTS – the best toolkit for building powerful voice/sms apps with Visual Studio.
Lots of C# Sample Code
Once you sign up, you will have access to examples of how to do what you want:
SMS (Texting)
Inbound SMS
Outbound SMS


Getting Started
Getting Started

Call Routing
Half Routes
Full Routes



IVR with Transfer
Getting Started, IVR with Transfer

Faxing
G711 Mode
T38 Mode

Dialing
Just Connect Mode
Detect Human/Machine
Beep Detector
Combo Human/Machine & Beep Detector


Getting Started, IVR with Transfer
Dialer
Dialer
Dialer

Dsp Functions (Recording)
Record File (eg Voice Mail)
Record a Conversation
Record and Follow a Conversation


IVR with Transfer
IVR with Transfer
IVR with Transfer

Dsp Functions (Play)
Play a Tone
Play Text to Speech
Play TTS using Different Voices
Consuming Digit Events
Music On Hold
Get Digits


IVR with Transfer
Getting Started, IVR with Transfer, Speech Recognition
Speech Recognition
Speech Recognition
IVR with Transfer
IVR with Transfer

Conferencing Basics
Listen In/Coaching
Recording Conference

Speech
Simple Grammar
Comples Grammar
Continuous Speech
(eg. Credit Card Number)
Amazon Lex BOT


Speech Recognition
Speech Recognition
Speech Recognition

Amazon Lex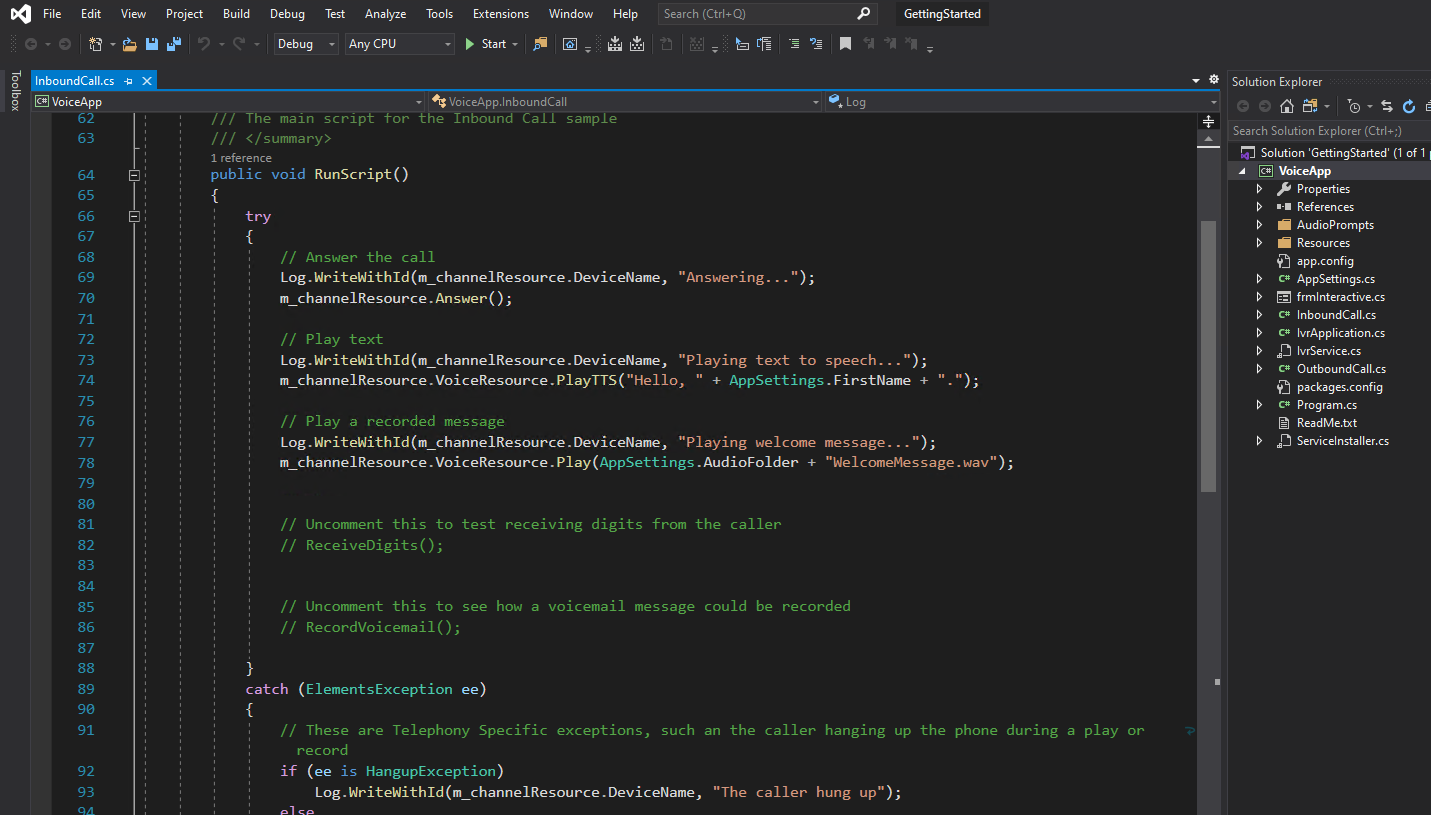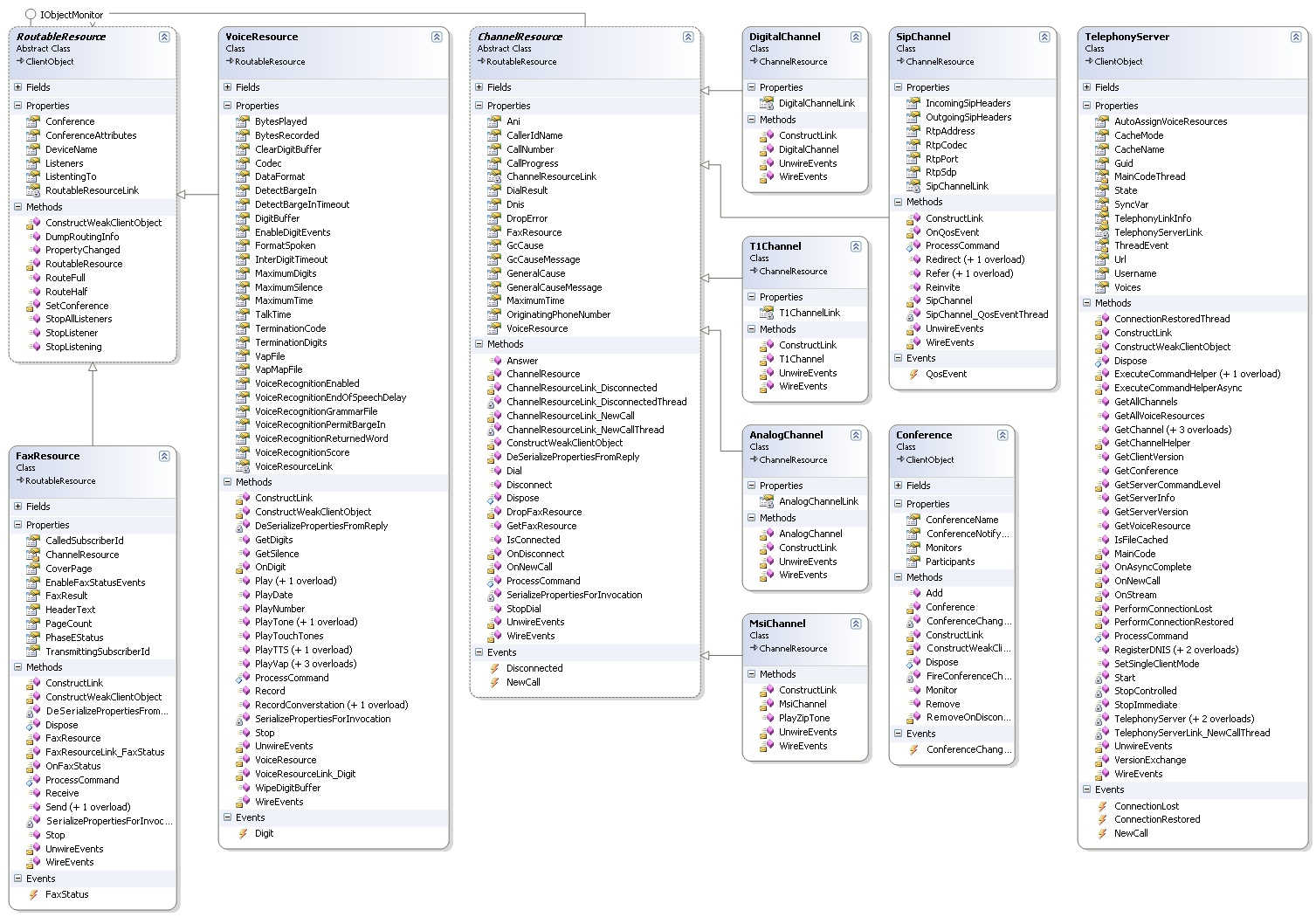 Designed for .NET Developers
Visual Studio / .NET developers will be right at home using our sophisticated .NET class.  We build this from the ground up with you in mind.
Start by using the sample applications and see the basics.  Then see it all by checking out the .NET Class documentation.
Video – Why Voice Elements
Watch this video on how Voice Elements will help solve your Customer Communication problems.