Initial Start Up
After you have installed Voice Elements, the first thing to do is to start HMP Elements service and then the Voice Elements service:

Note: This step is only required after the initial installation of Voice Elements. On subsequent reboots of the system, these services are started automatically.
Ports Table Is Now Updated
Once both services have successfully started, the "Ports" table will be populated with the names and statuses of all licensed ports: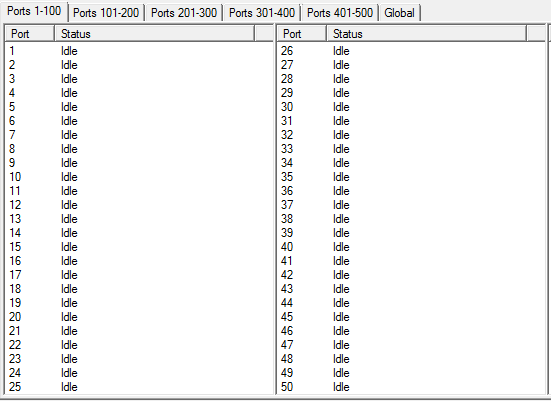 The number and type of ports available is determined by the features licensed.
Make an Outbound Call
Start the Sampler
To make your first test call, open the Voice Elements Sampler by clicking 'Start Sampler" in the Elements Dashboard:
Enter the Outbound IVR Phone Number
After it opens, select the Outbound IVR in the list of available samples. Enter the phone number you wish to dial in the "Phone Number(s) to dial" list, and finally click 'Start Job':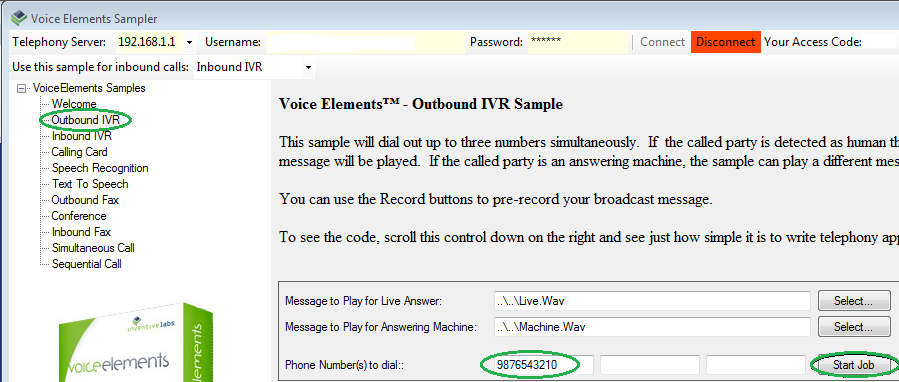 Please note that your SIP PBX may expect the Caller ID value to be set to a specific number, usually the extension number associated with your account. If your SIP PBX or gateway requires authentication, you will need to enter your credentials in the HMP Elements configuration file. To access it, select the "Configuration" for HMP Elements in the Elements Dashboard:

This will open the HMP Elements configuration file. Find the section following section:

Replace "sip_username", "sip_password", and "carrier_fqdn" with values required by your SIP PBX or gateway. After making the changes, save and close the file and restart both the Voice Elements and HMP Elements services.
Test An Inbound Call
To test inbound calls, you need the DID number which points to your gateway, or the extension number if using a SIP PBX.
Start the Sampler
If you would like to place an inbound call to the Voice Elements platform, first start the VESampler by clicking 'Start Sampler' button in the Elements Dashboard:
Call Your Test DID
Once the VESampler has started, dial the DID or extension. By default, the VESampler will use the Inbound IVR sample script to answer the call, which will request the caller to enter several DTMF and then play them back, and will record a message and play it back. To end the call, hang up at any time.
More questions?  Contact us!
If you would like to schedule a free consultation with a Voice Elements engineer, please send a request to Support.
The Engineer can help you as follows:
Explain the various deployment options of Voice Elements
Help you get started with the skeleton project
Help you with any problems that you might have encountered during the install
Give you ideas about how to accomplish your objectives
This consultation can be done using remote meeting software such as GoToMeeting or Join.Me. Let us help you get started with Voice Elements.