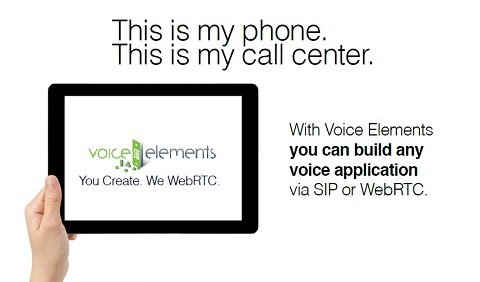 Looking for innovative ways to communicate?
Empower your employees to work from anywhere.
Unlimited possibilities to keep you connected with employees and customers.
Combining WebRTC with Voice Elements® creates an exciting and compelling VoIP development environment.
Next Generation Interface
WebRTC has proven to be the next generation interface for Call Centers, IVR's and SOHO PBX's.
What is WebRTC?
WebRTC is a technology that allows you to use your browser simultaneously as a web browser and as soft phone.
Make and receive calls using WebRTC right from your browser!
Combine the flexibility of your own webpages with WebRTC to provide a complete solution for your employees or your customers.
What can I build?
Virtual Employee Apps
Call Center Apps
Toll Bypass
Sophisticated IVRs and Voice Dialers
Voice Elements Platform with WebRTC Features:
Microsoft .NET (C#/VB.NET)
Codecs: G.711, G.729, OPUS
SRTP over TLS
WebRTC and SIP Call Control
WebRTC Clients: Chrome, Edge and Firefox
Integrate our proven Voice Features: Play, Record, Get Digits, Beep Detection, Conferencing
Speech Recognition and Text-to-Speech (TTS)
Highly Scalable
Highly Accurate Call Analysis
Setting up your system to support WebRTC
The following articles explain how to set up and configure WebRTC.
Learn how to get your application quickly into production!